New Development
A Platform to improve your AI Performance
A Unique Backbone for AI/ ML Chips. It has much higher bandwidth, Lower Power and Low Latency solution targeted for AI and ML on the Edge.
A Fault Resilient Infrastructure Fits into your Solution
A Unique set of Fault Resilient IPs which can be implemented into your SOC to improve their Fault Resilience.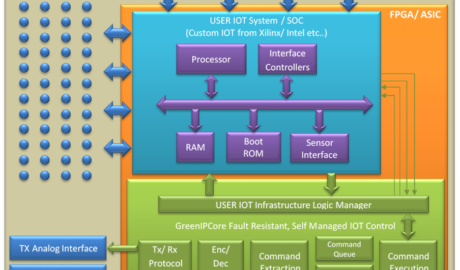 Fault Resilient Companion.
A unique addon for every IOT to keep it reliable and working all the time. Can be planed "On Chip" and "Off Chip". It Keeps Scanning your Solution and recover it from faults whenever it corrupts. A Fault Resilient Stability Solution for solutions for Industry 4.0, Smart Homes, AI, Smart Devices and Fully Autonomous applications.
About GreenIPCore
Welcome to the world of reliable electronics echo system.
Revolutionized chip design with our next-generation fault resistant digital IPs and subsystem.
Semiconductor market is booming and Our Vision is to develop new technologies to make human life easier and reliable.
We provide you solution to most hounded and historic problem of all times - the electronic faults in harsh environment. Flexible IP Solutions For Ultimate Stable Operations
"NOT JUST SAFE, NOT JUST SECURE, ITS RELIABLE.